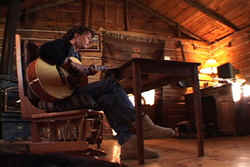 Stephanie Davis is passionate about great writing, especially great songwriting. "It's a mysterious blend," the unassuming singer-songwriter says of her trade, "part magic, part craft, and part keeping your butt in the chair. Songwriting is hands-down the most aggravating, exhilarating, enlightening, challenging, and exasperating thing I have ever done... and that's probably why I am so crazy about it."
"The song, especially a great one, is king, and the singers are its subjects."
The fourth-generation Montanan spent several years in Nashville, honing her craft and having her songs recorded by such artists as Garth Brooks, Roger Whittaker, Shelby Lynne, Martina McBride, Sam Moore, Maria Muldaur, Trisha Yearwood, and Don Edwards. In addition, she has gained respect as a soulful vocalist and talented multi-instrumentalist, both live and in the studio.
Must be signed on to Facebook